10 reasons why you should forget everything you've heard about female singer-songwriters and slap on the new JENNIFER O'CONNOR LP, Here With Me…
by Gail O'Hara
1. THE NEW ALBUM
The brand spanking new Jennifer O'Connor LP, Here With Me, is here. It was produced, recorded and mixed by John Agnello (Sonic Youth, The Hold Steady, Dinosaur Jr.) in 12 very productive days at Headgear in Brooklyn in March 2008. Basic tracks - including vocals - were recorded live. It will be released on Matador Records on August 19, 2008, and it will bring the Brooklyn musician to the mass audience she so completely and utterly deserves.
"I try to make each record better than the one before," says Jennifer. "I was also going for a more cohesive 'band' sound and I think we achieved it. Since we made the record so quickly there's a real sense of urgency and immediacy in the recording." [...]
News
8/14/08--Jennifer at McCarren Pool


...opening for Wilco, that is, and in front of one of the larger mobs we've seen J'OC dazzle to date. That's Matador alum Chris Brokaw playing guitar on the right, and if you think I'm gonna list all the great bands he's been in while typing with my thumbs, you're crazy. Kind of weird that 3 Matador artists (Jennifer, Yo La Tengo, Times New Viking) are playing McCarren in the pool's final days as a music venue. Never let it be said this label's roster doesn't know how to suck all the life out of a party close things out in style.

8/13/08--"Here With Her" Part 2

Here at Matador, we're counting down the hours to Tuesday's release of the brand new Jennifer O'Connor album, "Here With Me" (and making due in the meantime with this convenient Rhapsody album stream). Here's a little more backstory on the album, where Jennifer discusses the makeup of her crack band. People, it's Jennifertime, don't be late.

8/11/08--NPR Loves Jennifer


The day is almost done. ALMOST. There's still time for you to learn that NPR picked our very own Jennifer O'Connor's "Here With Me" for their song of the day today. See it HERE and listen as you do whatever it is that you do to count out this monday.
"Here With Me" is a song to build a mix tape around. Flawlessly constructed from bare acoustic riffs and crisp beats, the track lets O'Connor's half-plaintive, half-expectant vocals tell a universal story of desire and hope."
Nice! We still have a couple of signed LP Jackets available as a free gift for pre-ordering Jennifer's new album Here With Me, which will hit the streets August 19th! Click HERE to order a copy for a sale price before street date


8/7/08--Talking About 'Here With Me' pt. I
Jennifer, James McNew our own Gabe Spierer and some awesome midday traffic (isn't there a law against honking for no reason?) in the first of 3 label-commissioned clips where JOC discusses her upcoming LP/CD 'Here With Me' (in stores and online August 19)
8/6/08--Permanent Records, Greenpoint
Permanent Records is a new-ish record store in my neighborhood of Greenpoint, Brooklyn. When I started doing my record store visit posts on tour, I knew at some point I wanted to do one on Permanent. I visit this store at least once a week when I'm in town. They have an amazing selection of used cds and vinyl and the right selection of new titles so when I want to pick up a new release they usually have it. I talked to Marjorie (owner) and Ron.
JO'C: Permanent used to be in Long Island, right? Why the move to Greenpoint? Marjorie: Well, I live in Brooklyn, so the commute is much easier now. Also, as much as I liked Northport, people are much more supportive of music here.
JO'C: So you like having the store here in Greenpoint? How long have you been here?
Marjorie: Yes, I can hardly remember what it was like before. We opened the store in Greenpoint in May of 2007. It's actually more like being in a small town here in Greenpoint than it was in Northport. Which is pretty rare for being in an urban setting.
JO'C: Greenpoint does feel like a small town. I think its one of the things I like most about living here. What are your favorite places to eat in Greenpoint. This is the one question I ask of all the stores....
Ron: Brooklyn Label - They have a good balance of veggie and meat selections. And the coffee is good.
Marjorie: The Habitat on Manhattan Ave.
JO'C : I go to Brooklyn Label all the time. I've never even heard of The Habitat - new place to go! Ok, what do you sell the most of in the store?
Marjorie: I'd say we'd sell the most used LPs, then used cds, then new lps, then new cds.
JO'C: That makes sense to me - as someone who comes here frequently and buys like 20 used cds at a time. ****
Marjorie: I've always enjoyed letting the used collections that I buy dictate the inventory I stock. We definitely carry new titles, but our niche is more used items. JO'C: What's the first record(s) you remember buying as a kid?
Marjorie: Yes Fragile. Blondie Heart of Glass 45 and Parliament Flashlight 45 Ron: Kiss Love Gun 45 and Aimee Stewart Knock on Wood 45
JO'C: Marjorie, I think you are the first woman record store owner I've ever come across, in all my years going to record stores. Do you know any other women who own record stores?
Marjorie: Not currently...
JO'C: I've always wanted to have my own store. Maybe someday.... What's your favorite and least favorite thing about owning a record store?
Marjorie: Well, being my own boss is my favorite. And being my own boss, is also probably my least favorite.
JO'C: I hear that. And you do instores here at Permanent right? Marjore: Yup. We've done close to 20 or so in the last year.
JO'C: As a matter of fact, I am doing an instore at Permanent on Saturday August 23 at 3pm - to celebrate the Aug 19 release of my new record Here With Me. It's free! (the instore, not the record). :)
****I should not neglect to note that there is an awesome 99 cent cd section at Permanent and a 5 for $10 cd section. Also, dollar lps and really great prices on everything really - new and used. If you are a record store fanatic like me, and live in the NYC area, you should really come check this store out!!
7/31/08--NY Times Podcast, Widget, New Dates With Damien Jurado
(Jennifer O'Connor, Box Awesome, Lincoln, NE, July 12, pic taken from derek von's Flickr stream)


As we continue our feverish preparations for Jennifer O'Connor's new LP/CD 'Here With Me' (8/19), there's a couple of exciting they've-got-the-internet-on-computers-now developments to share with you. For one, Jennifer is the New York Times Popcast (mp3) "Artist Of The Week", and the subject of an interview with the Times' Ben Sisaro and a live performance in the Times' studios. There's some album reviews by Jon Pareles at the start of the program --- fast forwarding, is of course, entirely optional.

For another, we've launched a Jennifer O'Connor widget (above), which you're free to plug into your own blog, MySpace profile, Facebook profile, Live Journal, etc. If you've got friends who tend to take naps with their laptops left open, you can cut and paste the embed code and let them do some free advertising for Jennifer, too.

Finally, along with next week's dates supporting Wilco, a record release show at the Mercury Lounge on 8/21 and an instore at Brooklyn's Permanent on 8/23, Jennifer will be hitting the West Coast with Damien Jurado in September. More dates to follow, soon.

August
10-Wilmington DE @Grand Opera House with Wilco
13-Brooklyn NY @ McCarren Park Pool with Wilco
21-New York NY @ Mercury Lounge with Dump
23-Brooklyn NY @ Permanent Records 3 PM in-store performance

September
7-Sacramento, CA @ Harlow's Night Club with Damien Jurado
9-Los Angeles, CA @ Spaceland with Damien Jurado
10-San Francisco, CA @ The Independent with Damien Jurado
12-Portland, OR @ Doug Fir Lounge with Damien Jurado
13-Seattle, WA @ The Triple Door with Damien Jurado
19-New Haven, CT @ Cafe Nine
25-Northampton, MA @ Iron Horse Music Hall with Great Lake Swimmers

7/21/08--The Zebra Sessions Pt. II

"Daylight Out" from the upcoming LP/CD 'Here With Me', as captured in Chris Lombardi's office. I don't know how many of you have ever been held captive in Chris' office, but I think it can safely be called a minimum security prison.


7/18/08--JO'C + Milwaukee + Atomic Records + Sahan = True Love Forever
Lots to say, people, lots. I totally heart Milwaukee. Previously, I'd been to this fine city only once to play and had such a great time. I wondered if it was a fluke. I now know it was no fluke - Milwaukee may just be the finest place on Earth.

But let's get to the record store juice, shall we?
I visited Atomic Records and had a lovely chat with Sahan.
JO'C: How long have you worked here?
Sahan: One year.
JO'C: What did you have for lunch?
Sahan: A baked potato.
JO'C: Yum, that sounds good. What's your favorite place to eat in Milwaukee?
Sahan: Classic Slice.
JO'C: What's the best music venue in Milwaukee?
Sahan: NOT The Rave.
JO'C: Oh shit! Is there a good music scene here? What are some good local bands?
Sahan: Yeah, I'd say there is. Malachi, Get Rad, Call Me Lightning, Brief Candles. Those are some of the best.
JO'C: Cool, I'll check them out. What are your favorite new releases?
Sahan: Gregor Samsa - Rest and the Atlas Sounds' record.
JO'C: Are you going to any of the big festivals down in Chicago this summer?
Sahan: No, I was gonna go to Pitchfork, but I'm not now. I AM going to see My Bloody Valentine in September.
JO'C: I think that's a much better choice. Good work. I really like Milwaukee. Should I move here?
Sahan: Yes.
JO'C: Anything else you'd like to add?
Sahan: Yes, I am not 15...I'm actually 22.
Atomic is awesome. Sahan gave me a great Atomic Records t-shirt, and I bought Aretha Franklin's I Never Loved a Man...on cd so I could listen in the car. And a $2 Deee-Lite single with some rad re-mixes. I also got the new Magnet magazine...which has a really fucking awesome new Matador ad in it. Really. To top it off - Sahan came to the show that night at the Cactus Club - which was the best show so far I think. I could go on and on, but unfortunately, I have to get in my rented Chevy Impala and drive to Minneapolis now. Love, JO'C
7/14/08--Homer's Music in Lincoln, NE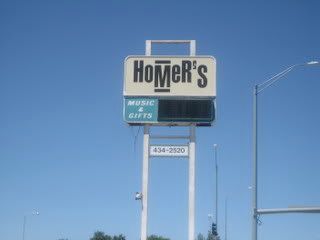 It was 85 degrees at noon yesterday when I rolled up to Homer's Music and Gifts on O Street in Lincoln, Nebraska. The unsuspecting clerks working were Michael and Ted.

JO'C: How long have you guys worked here?
Michael: About 6 or 7 months.
Ted: 6 years.
JO'C: Have you had breakfast/lunch yet?
Michael: Yes, we had bagels from the bagel place next store. That's what we do every Sunday.
JO'C: You've got your own Sunday routine...I like that. What did you guys do last night? I'm curious what young music-loving people like yourselves do on a Saturday night in Lincoln....
Ted: Everclear watermelon.
JO'C: Wow. Really?
Michael: I watched Welcome to the Dollhouse and drank a couple of cases of beer with some friends.
JO'C: That's a lot of beer. Ok...down to business...what's your favorite new release?
Michael - Clinic - Do It!
Ted - Gravenhurst - The Western Lands
JO'C - Ok, cool....what are some of your favorite bands in general? Or your favorite?
Michael - There are too many to name.
Ted: Sonic Youth, The Start, Cocteau Twins
JO'C: Tell me something about Lincoln and what its like to live here? Ted: It's comfortable.
Michael: It's not so good for bikes though...you get called queer a lot. But we ride our bikes everywhere anyway. Other than that the people are cool.
JO'C: Anything else you'd like to add for the Matablog readers? Michael: Join the Space Station!
Ted: Matador is a sweet label.

So, there you have it - Lincoln, Nebraska. I'm gonna try to hit up Milwaukee and Des Moines later this week. If anyone has recommendations...let me know! xox JO'C


7/12/08
Today is the first day of my 10 date midwest run with Son Ambulance. Right now I'm sitting at The Old Mattress Factory or The Matt Bar and Grill as it says on my pint glass - eating some fish tacos and looking at 13 different large screen TVs showing baseball and golf. This afternoon I visited Antiquarium Records. I got a used copy of Grizzly Bear's Yellow House on CD for $4 and I spoke with Chelsea.

JO'C: How long have you been working here?
Chelsea: About 3 months.
JO'C: What did you have for lunch today?
Chelsea: A bagel.
JO'C: What's your favorite place to eat in Omaha?
Chelsea: Amsterdam Falafel & Kebab on 50th Street.
JO'C: That's the 2nd time I've gotten a falafel joint recommendation in my 3 times asking this question of record store employees. Hmm.... What's your favorite local band? Chelsea: Box Elders (Jeremiah of Box Elders was hanging out behind the counter with his geetar).
JO'C: What's your favorite record of 2008 so far?
Chelsea: Times New Viking!
JO'C: Yes, I've heard of them somewhere. No, I'm kidding - I love their record too. To continue the Matador theme we have going here, what is your favorite Matador band of all time? Chelsea: Pavement!
JO'C: Good choice. Anything else you'd like to add for the Matablog readers?
Chelsea: Keep buying records and going to record stores!
JO'C: Wise words. I would like to note that this was a charming store with very nice people and lots of vinyl! When I told Chelsea I was on Matador and what I was there to do, she remarked that she wasn't cool enough for Matador - that I should wait for the owner to come back because he was cooler. I just want Chelsea and everyone else to know...that they ARE cool enough for Matador. Matador loves you. And so do I. xox JO'C PS. I'll be doing some myspace blogging about the shows and such on my, uh, myspace page.


7/1/08--The next 100 people to pre-order my COMING SOON record HERE WITH ME (on CD or LP) will receive a signed record jacket!!
Matador has ordered 100 extra LP sleeves which I will sign with SILVER SHARPIES for extra beautiful-ness! They will be neatly trimmed to look like a record flat - suitable for framing! Several people have expressed to me how much they love the new album cover and so I made this suggestion to Matador and they agreed. They said, "Great idea, Jennifer!" You see, this is how great music business relationships work. So, don't miss your chance to own a piece of JO'C/Matador history. Love, JO'C
6/26/08--As promised, I am here to do some blogging about the tour we finished a couple of weeks ago in support of Mr. Jamie Lidell. I'm just beginning to feel recovered from it -we covered a lot of ground in a short amount of time. Going in to the tour, I thought we were different enough as musical acts (Jamie and I) to make for an interesting (albeit, perhaps slightly odd) show. I was actually really excited about doing something different instead of just touring with another singer-songwriter/song-oriented band. I thought it would be really cool to have two pretty disparate acts on the same bill. Today, having been through the experience, I'm not sure if it worked or if it can work. It was truly difficult at times, but completely spectacular and revelatory at others. In all, I'm really glad we did it and I feel like I learned a lot. As a music fan, I love it when I go see a show and there are really different types of music on the bill. It keeps me on my toes and keeps me from being a complacent listener. But these types of shows happen so rarely. Why is that? And why are people so resistant to it? In any case, I had a great time playing the new songs with my band and getting to meet some new folks (Jamie and his crew were some of the nicest peeps ever) and especially, playing the fucking 9:30 club in Washington D.C. I really should do a whole blog post just about this place. I have never played a better venue. Better in every way. Good sound? Check. Great staff? Check. Treated like a human being and not just like the the opening act slime? Check. God, the people that run that place deserve to be knighted or something. When we were leaving, Jon Langmead who plays drums in my band said...."I wish I could live here." Seriously, that's how great this place and the people who run it are. Ok, so here's some of my fave photos from the tour. If you'd like to see (many) more, you can go to my myspace page where I just uploaded way, way more than you'd probably ever like to see.

Me and Michael Brodlieb (bass) in the van en route to Chicago:



Lidell & crew soundcheck at bowery: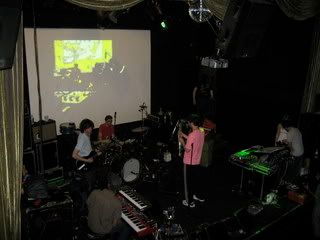 Set list, big and little:
The back of Chris Lombardi (and us on stage at Bowery):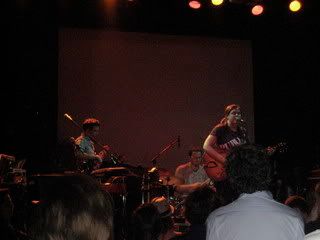 Ladies and gentlemen, Jon Langmead on drums:
feeling it: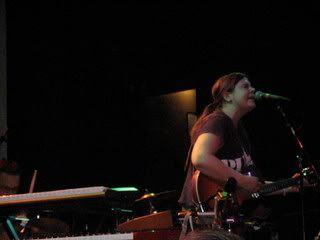 flashing lights: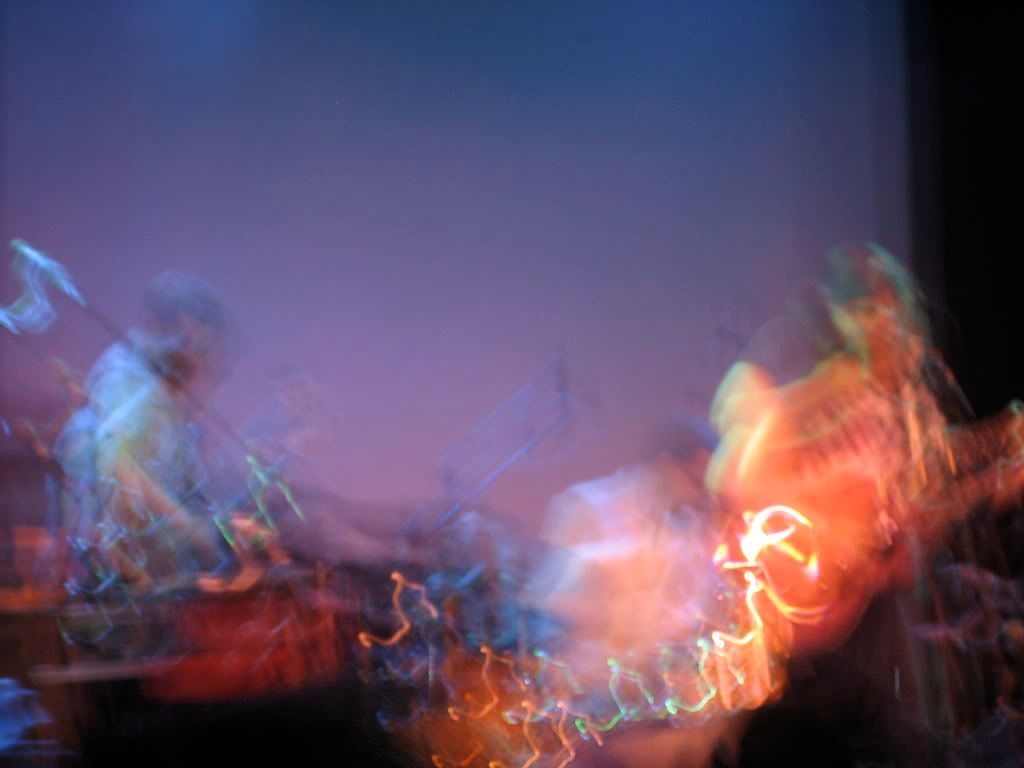 That's it! More soon.... Love, JO'C
6/25/08--New MP3, Upcoming Dates
(photograph by Debora Francis) The most gratifying thing about our feverish preparations for the August 19 release of Jennifer O'Connor's masterpiece 'Here With Me' (LP/CD)? With the possible exception of the chef Chris had flown in to prepare company lunches*, the best part so far has been the reactions from the lucky few who've heard the album. If I had a nickel for every person who has called or written to say "wow, you guys were right. Jennifer is a world-class, pop songwriting powerhouse"...well, I still wouldn't have enough money to buy a copy of Entertainment Weekly. But keep in mind, they keep raising the prices of these magazines and you can read 'em online, anyway.
"Here With Me" is the 2nd MP3 we've chosen to leak from the album. Between this and the previously sneak-peaked "Valley Road '86", we're hopeful you'll have a better idea why we've only gotten started making noise about Jennifer's crazy reservoir of talent.
Jennifer will be headlining New York's Mercury Lounge on August 21, with support coming from Dump. Tickets go on sale June 25. Here's a full list of upcoming dates :
July 11 - The Slowdown, Omaha, NE
July 12 - Box Awesome, Lincoln, NE
July 13 - Record Bar, Kansas City, MO
July 14 - Mojo's, Columbia, MO
July 15 - Schuba's, Chicago, IL
July 17 - Vaudeville Mews, Des Moines, IA
July 19 - Aquarium Dempsey's, Upstairs, Fargo, ND
July 20 - Nuttys' North, SIoux Falls, SD
August 10 - Grand Opera House, Wilmington DE
August 13 - McCarren Pool, Brooklyn NY
August 25 - Mercury Lounge, NY NY

(July 11-15, July 19-20 supporting Son Ambulance)
(August 10, 13, supporting Wilco)
(preorder 'Here With Me' on LP or CD)
* - sorry. I hallucinated that we'd done an office swap with Revolver Distribution.
6/12/08--Hello Everyone! I fully expected to do another one of these record store visits sooner, but long drives chasing the Jamie Lidell tour bus kept us from record store adventure #2 until yesterday in the lovely city of Philadelphia. We decided on A.K.A. Music after having it recommended to us on various occasions. Max was working the counter and he gave us some very useful information.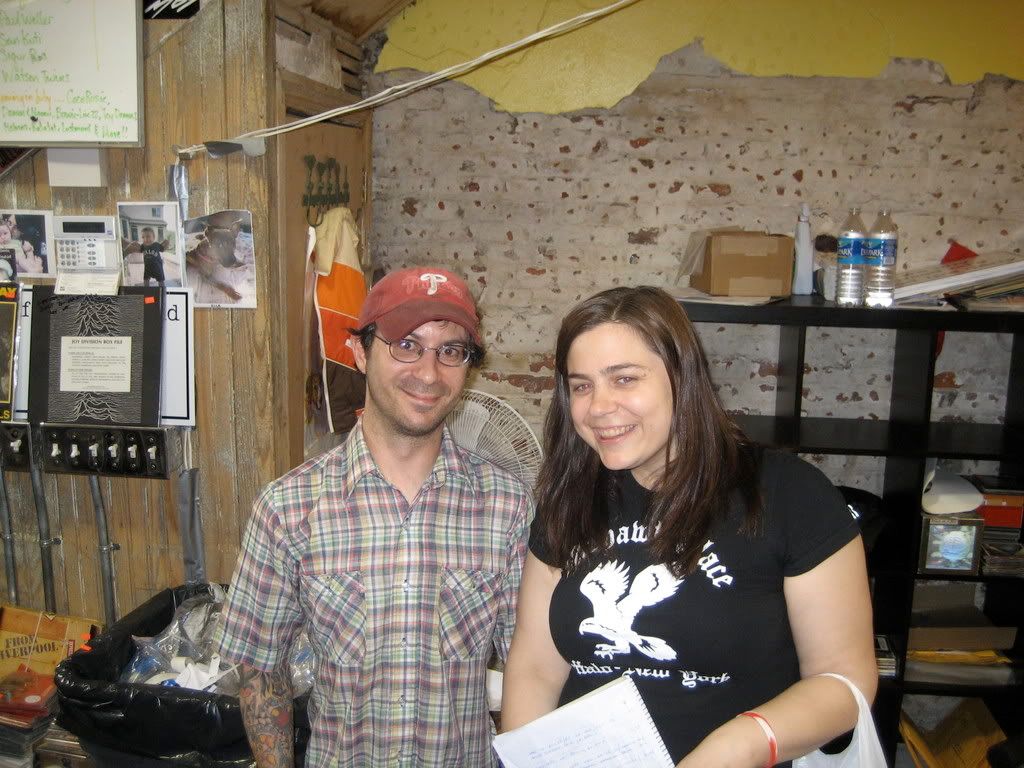 JO'C: How long have you been working here?
Max: Almost 2 years.
JO'C: What's your favorite new release?
Max: Well, it's not "new", but I like the Rayne reissue.
JO'C: (Confused look)
Max: They were a late 70's garage band.
JO'C: Cool. Where do you like to listen to music?
Max: At home.
JO'C: And what is your preferred format?
Max: Vinyl. JO'C: Finally, where's your favorite place to eat in Philly? Max: Good question. John's Roast Pork on Delaware Avenue. They have great pork sandwiches and great cheesesteaks too.
JO'C: Thanks Max!
I would also like to note that A.K.A. has a really great bargain bin used cd selection. I got a bunch of greatest hits discs for 2.99 - New Order, Kinks Kronicles, and some weird Prince Greatest Hits I hadn't seen before. Also a Massive Attack soundtrack and a disc by the Departure Lounge that I didn't have. I would have spent many hours combing through it if we'd had more time. PS. I'll do a blog sometime soon about the actual shows we've been playing!
6/4/08 Hi Matablog Readers! I started a tour today supporting Jamie Lidell and I'm in Chicago at the Abbey Pub awaiting soundcheck. Because I enjoyed participating in Record Store Day so much earlier this year, I've decided to visit local record stores in some of the cities we are playing and find out the answers to some important questions. This is my way of continuing to celebrate all the awesome record stores throughout the country. Today, we went to Reckless Records in Wicker Park and talked with Dan.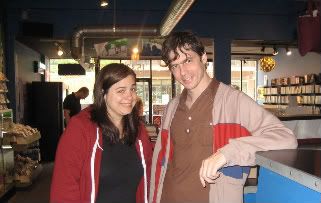 JO'C: How long have you worked at Reckless?
Dan: About 4 years.
JO'C: What did you have for lunch?
Dan: A chicken flatbread sandwich from 7-11.
JO'C: Do you have favorite restaurant in the area?
Dan: I'm not really a foodie, but I like this Middle Eastern place down the street called Sultan's Market.
JO'C: Do you have a favorite record of all-time and if so, what is it?
Dan: Hmmmm......
JO'C: Am I putting you on the spot? We can come back to this one.
Dan: Ok, let's come back to it.
JO'C: What record are you guys selling a lot of this week? Dan: The new Portishead.
JO'C: Any thoughts on your fave record yet?
Dan: I'll say Daydream Nation, but if you ask me tomorrow, it might be something else.
JO'C: Fair enough. Anything you'd like to add, that you'd like the Matablog readers to know?
Dan: I don't think so. JO'C:
Ok. Thanks for talking to me.
I think those are all the hard-hitting questions I have. Ok! Tomorrow is Toronto and if we have time....we'll be hitting up a store there too. JO'C, record-store-reporter, signing off. xox
5/30--
Amazing songs! Generous discounts! A snazzy poster! The feeling that you're part of something much bigger than yourself! Well, we've got the first 3 covered. Jennifer's fantastic new LP/CD 'Here With Me' is out August 19 but you're gonna feel so much better if you preorder it from the Matador store, trust me. "Valley Road '86" (mp3)
5/21/08--As we feverishly prepare for the 8/19 release of Jennifer O'Connor's 'Here With Me' LP/CD, we're pleased to announce that along with upcoming dates supporting Jamie Lidell and Son Ambulance, Jennifer is playing with Wilco on the following evenings : Sun 8/10 Wilmington, DE 7pm The Grand Opera House Wed 8/13 Brooklyn, NY Doors 5pm McCarren Park Pool In addition, "Hopeful" from Jennifer's fantastic 2nd album, 'The Color & The Light", is featured in the upcoming motion picture, "The Strangers", starring Liv Tyler and loads of freakish people wearing masks and wielding knives. The movie opens May 30, "only in theatres" as they like to say in the TV commericals. "Valley Road '86" (mp3, from 'Here With Me')
5/12/08 --Coming Aug. 19th- Jennifer O'Connor's 'Here With Me'

The pop landscape has been littered with nu Dylans, old Janis Ians (eg. Janis Ian) and any number of generational spokesmodels, troubled troubadours and assholes with bad pompadours. And those are just the
good parts of my record collection.


Occasionally, somebody not only sticks out from the pack, but manages for the space of 3 minutes or 45, to make you forget there is a pack. To make you forget that said (wacky) packs even exist. At the risk of scaring you with my crude, and poorly taped-up hyperbole stick, I submit that not only is Jennifer O'Connor that kind of artist, but that within a matter of months, you'll be the one hassling your friends about how fantastic her 4th album is rather than me. I'll have already done so. Jennifer recorded her new LP/CD 'Here With Me' (OLE 787-1,2earlier this year with John Agnello (Dinosaur Jr., Sonic Youth) at Brooklyn's Headgear Studios. It's a breezier, more upbeat work than 2006's fantastic 'Over The Mountain, Across The Valley and Back To The Stars', but I'd be lying if I told you the new album packed any less of an emotional wallop. Jennifer's songs have never before sounded this crafted, or hit the listener with such immediacy.'

Backed by a crack backing trio of Jon Langmead, Michael Broadlieb and Michael Strandberg (and joined, briefly, by Hold Steady keyboardist Franz Nicolay), O'Connor tackles her most evocative pile of relationship-tunes with something approaching surgical precision. Over the past 6 years, Jennifer's gotten scary good at this sort of thing, so much so that most other contenders for the hypothetical Nobel prize for Witty Pop Songs W/ Heart are either former members of this label's roster (we're thinking Manning/Phair/Daniel but if you wanna nominate someone more contemporary, please go right ahead) or they've already been embalmed in the Rock & Roll Hall Of Fame. Jennifer has a bunch of tour dates planned for this summer (see below) with more to come throughout 2008. In the days and weeks ahead, we'll be selectively previewing more of 'Here With Me', along with some exclusive video content. Until then, here's the first MP3 from the forthcoming LP/CD, "Valley Road '86". june 4 Chicago, IL Abbey Pub june 5 Toronto, ON Opera House june 6 Ottowa, ON Babylon june 7 Boston, MA Paradise june 8 New York, NY Bowery Ballroom june 9 New York, NY Bowery Ballroom june 11 Philadelphia, PA World Cafe june 12 Washington, D.C. 9:30 Club (above dates supporting Jamie Lidell) july 13 Kansas City, MO Record Bar july 14 Columbia, MO july 18 Minneapolis, MN Uptown Bar july 19 Fargo, ND Aquarium/Dempseys Upstairs july 20 Sioux Falls, SD Nutty's North (above dates supporting Son Ambulance)

3/29/07--A Jennifer O'Connor Update
Jennifer O'Connor writes :
"I am currently in Chicago on tour with Kevin Devine. I can't stop listening to the new Shins record. I am dodging/driving through snowstorm after snowstorm in my little car. A west coast tour is in the works for early April. Yay! It will be my first one.
And then there is also my 7" subscription club. For $25 you can have 5 split singles that I"m putting out my label Kiam. Each one will feature me and another band collaborating on a track and one or two additional songs by us separately. They will be delivered by mail through the course of the year as they are finished. The bands involved are Choo Choo La Rouge, Dump, Hotel Lights, Jesse Sykes & the Sweet Hereafter and Mascott. If you'd like to subscribe, please send $25 through paypal to jennifer@jenniferoconnor.net"

(KONFESSION KORNER : JOC wrote the above screed back in February when your humble editor was promising Patrick the news would be finished "any minute now." Sorry, Jennifer. But wouldn't you know it, the hardest working woman in any business, show or otherwise, is back on the road:
3/23 Chicago IL Beat Kitchen Maria Taylor (of Azure Ray)
3/30 Bellingham WA Night Lite Jesse Sykes, Sweet Hereafter
3/31 Seattle WA Tractor Tavern Jesse Sykes
4/1 Seattle WA Tractor Tavern Jesse Sykes
4/5 Berkeley CA Freight & Salvage Coffeehouse Richard Shindell
4/7 Los Angeles CA Silent Movie Theater Dean & Britta
4/8 San Francisco CA The Independent Dean & Britta
4/10 Portland OR Aladdin Theater Dean & Britta
4/11 Seattle WA The Triple Door Dean & Britta )
3/07/07 —New Tour Dates, Upcoming 7" Release Party, New Press
Since we last posted, Jennifer has confirmed a whole mess of new dates stretching from here to eternity, or December at least. Of special note is the March 16 Boston gig at PA's Lounge, with Choo Choo La Rouge, The Human Hearts (featuring Franklin Bruno), and Shepardess. This gig is a release party for the first of Jennifer's subscription only 7" series, a split with Choo Choo La Rouge pressed on luscious red vinyl. (For more details on the 7" series, read Jennifer's announcement on Myspace)

Also of note in the O'Connor-verse, last week's New Yorker had a 'critic's notebook' piece on Jennifer O'Connor filled with refrigerator worthy praise like the following:

Some people may have found her near-perfect 2006 album, "Over the Mountain, Across the Valley and Back to the Stars" (Matador), because of its guest stars--James McNew, of Yo La Tengo, and Britt Daniel, of Spoon. O'Connor would be just fine without them.
2/12/07--Matastore February Special: Buy The Record, Get Bonus Jennifer O'Connor EP Download!
Jennifer O'Connor is currently on the road winning hearts and minds (you can find out where HERE), but even with her heroically busy schedule she may not be coming to a town near you. If that's the case, what better way to get to know this criminally overlooked practioner of the singing and songwriting arts than through her Matador debut, "Over The Mountain, Across The Valley and Back To The Stars"? Especially when Matador HQ is throwing in a free download of her recent digital ep, "Another Side of Jennifer O'Connor." This four song ep starts off with a great cover of Bob Dylan's "To Ramona" and moves on to 3 originals, including the unexpectedly rocking (and expectedly awesome) "(Take Me On A Ride Around The) Sun."
Just order "Over The Mountain, Across The Valley and Back To The Stars," and within 24 hours, we'll email you a unique code to access the EP!
11/30/06 —4 star track review on Pitchfork
Pitchfork has seen another side of Jennifer O'Connor, and they like what they've seen. From their track review of "I Never Loved You" (off of the new eMusic exclusive EP):
O'Connor again proves she's as formidable a songwriter as she is a singer, conveying overwhelming uncertainty in that chorus just by singing the title over and over.
Read the whole shebang HERE!
11/14/06 —New eMusic Exclusive EP

A brand new Jennifer O'Connor EP is now available exclusively from eMusic. The EP is called "Another Side of Jennifer O'Connor" and as you might have guessed, it starts off with a cover of Dylan's "To Ramona". You might think this is a headline grabbing ploy by the Matador digital music mischief makers, but think again. The EP is being released to commemorate Jennifer's triumphant performance at the Bob Dylan tribute concert on November 9th at Lincoln Center in New York City.
The EP, available now, also features three brand new songs. Here's the tracklisting:
1. To Ramona
2. I Never Loved You
3. Waste My Time
4. (Take Me On A Ride Around The) Sun.
Check it out at eMusic HERE!
11/17/06 —Paste: Never as readable as when testifying to the brilliance of Jennifer O'Connor

Y'know, Paste might be a bunch of Wes Anderson-loving, Yep Rock-smooching bunch of Christ Humpers, but when they're right, they're right.
10/19/06 —Jennifer O'Connor to play Bob Dylan tribute in NYC
Jennifer will be performing at the Dylan tribute November 9 at Avery Fisher Hall. If Dylan's name alone doesn't impress you, check out some of the other scheduled acts: Patti Smith, Cat Power, Philip Glass, Ramblin' Jack Elliot, The Roots, Allen Toussaint--Heady company indeed!

Jennifer will be playing a duet with Ramblin' Jack Elliott, who some of you might know as the famous friend of Woody Guthrie who isn't Pete Seeger. All the details you could possibly want are at this link.
09/05/06 —New Tour with the Mountain Goats
On the eve of embarking on a hotly anticipated tour with Mason Jennings, Jennifer O'Connor has just booked yet another tour in conjunction with a legendary singer/songwriter. No, we're not talking about her early October dates with Portastatic, this one comes after that.
Straddling the line between October and November, Jennifer O'Connor and Mountain Goats will also straddle the line between breathtakingly prescient and utterly timeless with a dozen-odd date march through the midwest and south. Check out the details here.
08/29/06 —Jennifer on Daytrotter; touring with Mason Jennings

While we're still reeling from the recent pile of crazy press for Jennifer O'Connor's 'Over The Mountain, Across the Valley and Back to the Stars' (eg. "Sister", being hailed today by Pitchfork's Stephen Deusner as "one of the most genuinely affecting pop songs you'll hear all year"), we're even happier to share the following : 4 of the album's gems, recorded in stripped-down form for The Daytrotter Sessions.
Also, Jennifer has just confirmed a ton of new dates supporting Mason Jennings. Check it out here.
08/16/06 —Discography updated
Jennifer's discography page has been updated. Check it out here.
07/26/06 —Jennifer hits the road as release date approaches
Jennifer's first Matador album, 'Over the Mountain, Across the Valley, and Back to the Stars,' comes out on the very popular CD and LP formats later next month, and in addition to US dates this summer supporting the Silver Jews and Jeff Tweedy, record release shows are planned for NYC (Joe's Pub, August 24) and Boston (Great Scott, September 23) respectively. There's a ton of US shows on the tour dates page, with falls shows opening for Portastatic hitting the schedule shortly, along with Autumn dates sponsored by our friends at Venus Magazine.

Of 'Over The Mountain...,' Out's Mikel Wadewitz writes, "Whether it's the pop melodies of "Perfect Match" or the folk-rock elgy "Sister," O'Connor beautifully mines the tough terrain created by the twin demons of love and death." Ka-Pow!

"Today," the 2nd MP3 from 'Over The Mountain..." is now available for your listening pleasure.
07/26/06 — Second MP3 posted
Today is the second MP3 from Jennifer's upcoming Matador album, "Over The Mountain, Across The Valley And Back To The Stars," in stores August 22.
Rock and roll and all its many offshoots have, a good argument can be made, fallen into what nerds would call "A Baroque Period." We have concept albums about the Weimar Republic, multipart works peopled by casts larger than football teams. In spite of centuries of development in economic theory, nine-plus piece touring bands are a common sight (what are they bringing in every night, like five bucks apiece?). With all the pomp and extra percussionists, it's easy to forget what it is that makes music connect with listeners in the first place: honesty, empathy and guts. A few chords on an acoustic guitar, a lone voice, a song about missing someone, and Jennifer O'Connor shows she posseses these qualities by the ton.

06/27/06 — Photos posted
The new official press shots are available in the gallery.

06/01/06 — More of Jennifer's story
It's come to our attention that in our rush to stare at our own reflections bouncing back from a stack of 'Antics' gold records, we neglected to give you a substantial bit of background regarding one of our more recent signings, Jennifer O'Conner. As her new CD/LP , 'Over The Mountain, Across The Valley and Back To The Stars' is dropping on August 22, the following is an attempt to do said album justice:

In Matador's storied history, we've had the pleasure of working with some ridiculously talented people. The latest name we're happy to add to the pantheon is the direct, evocative NYC-based vocalist/guitarist Jennifer O'Connor.

Jennifer's career began in Atlanta, where after college she joined Violet, a band compared to X and the Pixies. She started playing solo after quitting Violet and moving to NYC. Her influences are other artists with a fresh take on self-awareness, from Destroyer, Silver Jews, Aimee Mann, and Smog, to Dylan and Petty, as well as Jay Z, Kanye West, and Dizzee Rascal.

Jennifer released her debut EP, Truth Love Work, in 2000. 'Time Out' wrote, "O'Connor is another Liz Phair or Elliott Smith waiting to happen. Her understated guitar-based songs lack the primping, preening and obviousness of Phair and the sad-sack whining of Smith. Rather, her matter-of-fact lyrics tell stories that us regular joes can relate to." Her self-released, self-titled debut followed in 2002, and Red Panda released the acclaimed 'The Color And The Light' in May 2005.

'Over The Mountain' is her 3rd full-length, but it has the immediacy of a debut. The past year saw many personal upheavals which informed it more than she expected. "It's been so tumultuous, I think that inevitably crept into my songs," she says. "I wouldn't say that I always write from experience, but I did a lot of it on this record." For her most emotional songs yet, she self-produced and got rid of reverb and extraneous sounds, giving them an urgency that her other records didn't always have. She explains, "There's a lot of space; we purposefully pared everything down to what was necessary for the song."

While Jennifer writes (and often performs) alone on guitar, each song here (save the acoustic single-take "Today") is fleshed out with a band that includes her longtime drummer Jon Langmead, James McNew (Yo La Tengo) on bass, Kendall Meade (Sparklehorse) on keyboards & vocals, and other friends including Britt Daniel (Spoon) on vocals, and Al Weatherhead, who produced 'Color...' & plays guitar on many tracks.

upcoming live action:

sun june 4 todd p presents: springtime unamplified acousic bbq at the southern tip of roosevelt island
enter at corner of Main St & Road 3

Jun 6 2006
Boston, MA
Abbey Lounge w/ Choo Choo La Rouge, The Silver Lining, Tony Goddess & Thedowhatshewants (Papas Fritas)

Jun 21 2006
New York, NY
Sin-e w/ The Mendoza Line

Jul 15 2006
Greensboro, NC
Flying Anvil w/ Hotel Lights & Pleasant

Jul 17 2006
Tallahassee, FL
Beta Bar w/ Hotel Lights

Jul 18 2006
Atlanta, GA
The Earl w/ Hotel Lights and Liz Durrett

Jul 19 2006
Athens, GA
Caledonia Lounge w/ Hotel Lights & Liz Durrett

Jul 20 2006
Asheville, NC
Grey Eagle w/ Hotel Lights

Jul 21 2006
Richmond, VA
Gallery 5 w/ Hotel Lights & Prabir & The Substitutes

Jul 22 2006
Chapel Hill, NC
Local 506 w/ Hotel Lights

Jul 28 2006
St. Louis, MO
The Duck Room w/ Silver Jews

Aug 24 2006
Joe's Pub, 9:30 PM
RECORD RELEASE PARTY
with band

A solo performance of Jennifer's will air on Jon Solomon's WPRB program on June 28.
05/22/06 — Biography posted
The new biography has been posted.

04/17/06 — First MP3 posted
Exeter, Rhode Island is the first MP3 from Jennifer's upcoming Matador album.

04/14/06 — Rothko residency; other shows coming
Jennifer O'Connor will be performing every Tuesday in May at Rothko in New York City; other upcoming dates are listed on the tours page. Keep checking back here for the new bio, photos and an MP3 from the new album very shortly.

03/10/06 — Album confirmation; other SXSW appearances
Jennifer's Matador debut,'"Over the Mountain, Across The Valley, and Back to the Stars' is coming later this year and we'll have more things to say, both effusive and informational in nature, about said artistic achievment, in the next update. Until then, you can catch Jennifer at the following events during SXSW .

March 15 - Stubbs, BBQ (8pm, Matador quintuple supershow)
March 16 - Mrs. Bea's Patio, 1104 East 6th St. @ Medina St. , 4pm,
(with Love Of Diagrams, The Notekillers, Erase Errata and Mike Wexler)
March 16 - End Of An Ear Records, 2209 South First St., 6pm
March 18 - 18th Floor At Capitol Place, 500 N. IH 35, 9pm (with Mascott and The Naysayer)

01/24/06 — SXSW lineup announced
¡Matador Sur de Suroeste 2006!
Miercole

01/24/06 — SXSW lineup announced
¡Matador Sur de Suroeste 2006!
Miercoles, 15 de marzo
Stubbs BBQ
Austin, Tejas

BELLE Y SEBASTIÁN
MOGWAI
CAT POWER
LOS NEW PORNOGRAPHERS
BRIGHTBLACK MORNING LIGHT
y huéspedes especial: JENNIFER O'CONNOR

Dear friends in the rock and roll business (and humans, too). The following members of Matador's cavalcade of stars will be appearing at Austin, Texas' Stubbs BBQ on Wednesday evening , March 15 as part of the eagerly awaited South By Southwest trade fair.

Due to the limited capacity of the venue and the large number of SXSW badges and wristbands in circulation, we will not be able to offer ticket availability to the general public. However, public wristband sales in the Austin area will be announced soon.

In the days ahead, we hope to have further details about additional Austin appearances by Brightblack Morning Light and Jennifer O'Connor that week, as well as where and when The Double will be performing during SXSW.

10/11/05 — Jennifer reports
Jennifer reports "I am preparing to begin recording in the next few weeks. I will be self-producing at The Fort in Brooklyn.I'll be playing a few solo shows in October and a few band shows here and there throughout the winter but I will mostly be focusing on making the record."

upcoming gigs -

10/12 - Knitting Factory, NYC, NY (with Doria Roberts)
10/13 - Pace, Easthampton, MA (with Doria Roberts)
10/15 - Tupelo Music Hall, Londonderry, NH (with Doria Roberts)
10/21 - Pianos, NYC, NY (with Undisputed Heavyweights)
10/23 - Maxwell's, Hoboken, NJ (with Orenda Fink and Neva Dinova)
11/17 - Cakeshop, NYC, NY (with the Dreadful Yawns)
11/18 - Pa's Lounge (with Choo Choo La Rouge and the Dreadful Yawns)


09/06/05 — Jennifer O'Connor signs to Matador Records
In Matador's long and storied history, we've had the pleasure of being associated with some ridiculously talented singer-songwriters. The latest name we're happy to add to that pantheon is the NYC-based vocalist/guitarist Jennifer O'Connor, whose 3rd CD, the recent 'The Color & The Light' (Red Panda) has been one of most direct, evocative and powerful works we've encountered in ages.
photo by Tae Won Yu
O'Connor, formerly of the Atlanta band Violet, has been knocking around the USA throughout '05, supporting the likes of Lou Barlow, the Go-Betweens, Feist and Vic Chesnut, bringing her confessional songs of loss, desire, love and despair to the stage, either as a soloist or fronting a trio.

Jennifer's Matador debut is tentatively on tap for the fall of next year, but in the meantime, you can check out her website at jenniferoconnor.net, a recent interview from Chickfactor, or a couple of MP3's from 'The Color & The Light':

The Color and the Light (MP3)

Sister (MP3)

Upcoming Jennifer O'Connor dates include

09/03 - Masquerade, Tampa, FL
09/05 - The Tank, NYC, NY
09/10 - Pa's Lounge, Somerville, MA
09/14 - Knitting Factory, NYC
9/16 - AS 220, Providence, RI (with Hockey Night)
10/02 - Tonic, NYC, NY (with Kahoots)
10/21 - Pianos, NYC, NY
11/17 - Cakeshop, NYC NY