January 25th, 2007 at 1:35 pm by Mike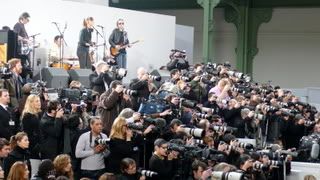 In an event that edged on the surreal but certainly was a hugely successful piece of grand theatre Cat Power and Dirty Delta Blues rocked the highest echelons of the fashion world on Tuesday providing the music for Chanel's haute coutre cat walk show. Housed in the magnificant and recently restored Grand Palais in Paris the performance took place in a specially constructed arena with the stage high above the models entrance. Proceedings kicked off with Judah, Greg, Eric, Jim and Chan swaggering into a version of "Naked If I Want To". Six men rolled out a huge grey and white carpet centered with a giant Chanel logo. The models strutted their stuff wearing what to these unschooled eyes looked like opulent and sophisticated yet very pleasing creations. The DDB kicked into a muscular version of "Could We" proving what they bring to the mix (though it doesn't detract from the the album or the Memphis Rhythm Band versions) creates their own sinuous take on the song. As "Satisfaction" continued the momentum did I notice a flicker of amusement across the concentrated face of Marianne Faithfull watching the models intently from row two? Certainly the woman next to Sean Lennon started taking photos of Cat Power and not the models. The band seamlessly stepped into a gorgeous version of "Tracks of My Tears" which built to a crescendo with Chan singing "you can tell by the look on my face" as the final model commanded the floor in a stunning white coat and gown. The curtains opened and Karl Lagerfeld sat there amongst his team as if they too were an audience watching the show.
So I missed clocking Sigourney Weaver, Madame Chirac, Catherine Deneuve, the French Minister of Culture oh and Kate Moss but we did see Sofia Coppola and get to take same great photos of Chan with Marianne Faithfull and Karl Lagerfeld.