November 12th, 2010 at 11:24 am by truepanthersounds
When making the Glasser album, Cameron Mesirow called up a few of her LA-based friends to pepper bits of wind-intruments, strings, drums, percussion, sarangi and everything in between over her compositions. However, faced with trying to shove a miniature orchestra into her car for tours, Cameron had to decide between playing in front of a computer/ipod or coming up with something better. She worked with the members of her new band, Van Rivers, Jon Leland, and Jason McMahon to create a synthesized way: wherein samples and synths can be run through real guitars and real drums set up as MIDI controllers. The video below and schematic above should explain it better than we can since it's pretty awesome. If you're curious about what specific instruments/synths/controllers the band is using there is a complete list of them at the end of the video.
That said, if you really couldn't care less about the live setup, stick with the video for about a minute and a half and see an incredible live performance of the song "Treasury of We". Glasser is also currently on the road with this very setup, so catch them at some point. Tour dates below the vid.
Buy Glasser Ring HERE
Directed by: Alan Del Rio Ortiz. Recorded at Carriage House Studios by Michael Cheever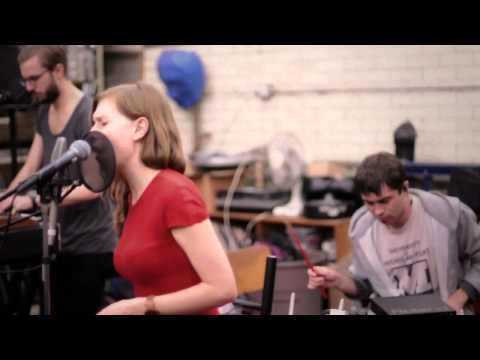 GLASSER TOUR
11/12- Pontiac, MI @ Pike Room #
11/13- Chicago, IL @Lincoln Hall #
11/15- Washington D.C. @ Black Cat #
11/16- Brooklyn, NY @ Music Hall of Williamsburg w/Blood Orange, ARP
11/19- Hartford, CT @ Arch Street Tavern
11/20- Baltimore, MD @ Metro Gallery
#= w/Twin Shadow